Have you ever colored glass before? Do you know how to tell the difference?
If you're an artist who incorporates glass in your art, you have likely colored or tinted glass before. If you haven't, the ability to tint clear glass is a game changer!
I have collected glass (hoard is a very strong word) to use in my art, but most artists have huge stashes of different kinds. From crushed glass, fire glass, handblown glass, stemware and tumblers, glass bowls and other decorative glass decor from Walmart, Home Goods, thrift stores, Facebook Marketplace, the Dollar Tree and many more sources!
I share this passion with many glass and resin artists who have discovered the magic that reclaimed glass brings to art. Combine an acrylic painted substrate (fancy term for painting surface) with glass and resin, and magic happens. My love of glass as a medium has grown ever since I discovered Mary Hong's beautiful and much sought after art several years ago. Mary is a well-known mixed media artist who uses many different types of glass, acrylic paint and resin. She also often incorporates beads, findings, mosaics and so much more in her art.
I took her 1.5 day workshop in November 2020 and it was an eye opener! I thought I knew a lot about glass and resin art, but I learned so much more from this in-depth learning opportunity with Mary, whose artworks demand top dollar. One thing that stands out is that you don't need to find rare and stunningly beautiful glass in order to make unique and beautiful art.
You can "cheat" by tinting glass in the colors you desire with:
Alcohol ink

Craft acrylic paint

Mod podge + food coloring

Spray paint made specifically for glass, including Krylon's "Sea Glass" and "Stained Glass" paint ranges Design Masters' TintIt range, which is very hard to find!

Other dyes
How do you know whether glass has been tinted?
You look at the bottom of the vase or vessel. If the entire surface is pink and the bottom is clear, it means the item has been tinted and the glass is not a solid color. You can confirm this by making a small scratch in the surface.
Murano and other pricey handblown glass products are a solid color, it has not been superficially colored. This means that the glass was created in that color, making it a higher quality, more sought after by collectors, and often much more expensive.
You've probably heard of Chihuly handblown glass, named after the famous American glass sculptor Dale Chihuly. His awe-inspiring installations consist of mostly handblown glass in all shapes and sizes. In 1976, Chihuly lost his eye in a car accident, the irony is not lost here.
Side note: I love handblown glass! It's thick, it's rich in color and created in such a unique way, not mass produced! I love "imperfect" pieces, which I collect. They're the oddball beauties that I can't get myself to break!
You can find some interesting glass shards that didn't make the perfect piece of handblown glass art, which I sell in my online shop! These subtle additions to art, gives extra dimension to original art.
Handblown glass shards or nuggets should not be confused with Blenko glass, which is a separate category of solid colored glass often referred to as "slag glass" and mostly used for utilitarian projects like landscaping, in terrariums, etc.
Have you seen those seasonal handblown glass pumpkins at Home Goods? Those are handblown and make for beautiful repurposed glass art! Here's an example, also available in my online shop! Click below to purchase.
In my next installment of "Have you ever colored glass?" - Part II, I will cover more of the pros and cons of the processes involved! Be sure to subscribe to my website to stay informed on mixed media glass art topics and please comment, I appreciate all the feedback!!
Until next time! Always repurpose your broken glass!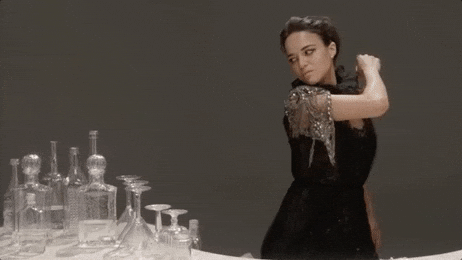 Theresa Wolf aka Jazzy's Treasures